Spice It Up! Using Essential Oils in the Kitchen
Has it been getting a little stale? Has there been moaning at the table? Is everyone looking for something just a bit spicier? Well, you can spice it up and increase the healthy aspect at the same time!
A "healthier lifestyle" way of eating starts with our food preparation.
We are all trying to do everything right - we are shopping for organic and locally raised food to ensure we get the best for our bodies and are preparing more meals at home using those fresh ingredients. And, while food must be healthy and nourishing it must also be sensual.
So, we often reach for seasonings and spices to flavor the dishes we prepare. But, those dried herbs lose up to 90% of their healing nutrients, therefore they offer very little benefit other than flavor. What if, instead, you reach for the essence of the plant, not only flavoring the dish, but adding a therapeutic and increased wellness to your already healthy dishes?
A properly distilled essential oil is 50-70 times more therapeutically potent than fresh or dried herbs. They have a chemical structure that is similar to human cells and tissues. This makes them compatible with human protein and enables them to be readily identified and accepted by the body. Adding essential oils also increases the ion exchange in the cells of the foods, increasing the cell surface and allowing more oxygen uptake that enhances greater enzyme function. Essential oils are known for their energizing and sliming effects, so adding them to your diet daily is very beneficial in so many ways.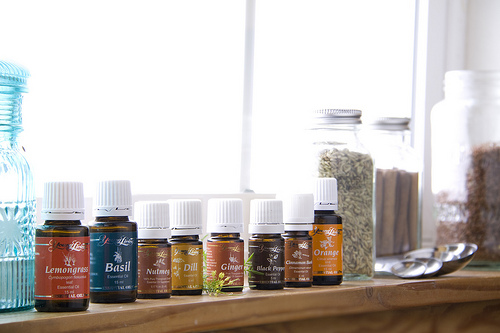 What a novel idea!
Using essential oils in food is not a new idea, there are in fact thousands of food products that use essential oils for aroma and flavor, such as chewing gum, chocolates, candies and many more.
Another benefit of using essential oils in your recipes is the relatively small amount that you need to use to flavor your dishes. It literally takes only a few drops to season an entire recipe that serves four people. Just 2 drops of an essential oil is equivalent to 2 ounces of dried herbs. Having essential oils in your pantry is like having a garden in constant full bloom and you don't have to pull any weeds!
So which essential oils should we have in our pantry?
There is of course, the obvious choices such as oregano, black pepper, nutmeg and basil, there is also a wide range of oils you can use for baking or in beverages. You can include essential oils in many of your favorite recipes. Add lemon, rosemary, clove, or peppermint to give wonderful flavor to salad dressings. Season cakes, frostings, puddings, and fruit pies, or enhance herbal tea with lemon, lavender, clove or peppermint. For a cold drink that even children will love, add lemon or peppermint to a pitcher of iced, mineral water and honey as an alternative to sweetened sodas. Flavor honey by stirring in the essential oil of your choice and adding it to your favorite recipe. I recently made a batch of Squash Soup using fresh butternut squash and nutmeg and clove essential oils. It was delicious, healthy and I was able to freeze some to eat later. Contact me for the soup recipe along with a great list of other recipes using essential oils. Another fantastic soup recipe is also available on the Young Living blog. I can also help you modify your current recipes exchanging dried herbs for fresh essential oil.
Because the food you eat directly impacts the way you look and feel, incorporating essential oils into your daily diet can make it easier to obtain remarkable results – adding spice and increased nutrition to every meal.
---
This healthful and delicious essential oil-infused soup recipe is sure to be a hit with your friends and family. It includes Young Living's Clove, Cinnamon Bark, and Nutmeg essential oils. Try this recipe for Butternut Squash Soup for your next meal.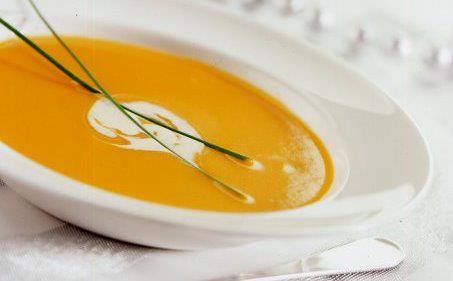 Ingredients:
2 tablespoons olive oil
2 onions, chopped
2 cloves garlic, chopped
2 pounds butternut squash, peeled and cubed
4 cups vegetable broth
2 dropsClove essential oil
3 dropsNutmeg essential oil
1 dropCinnamon Bark essential oil
Salt
Pepper
Directions:
In soup pan, sauté onions, garlic, salt, and pepper in olive oil over medium heat until tender. Add cubed squash and cook for 3–5 minutes. Next, add vegetable broth and bring to a boil. Boil on medium-high heat for 25 minutes or until squash is fork tender. Remove from heat. Using a hand mixer, puree until smooth. Stir in the essential oils. Allow oils to infuse into soup for 5–8 minutes and then serve. The soup may be garnished with a spoonful of yogurt if desired.
This recipe makes about 5 ½ cups of soup.
Recipe courtesy of Young Living Essential Oils Blog.